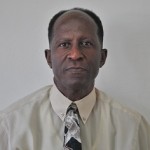 Eisenhower Douglas is employed in the Ministry of Employment, Trade, Industry and Diaspora Affairs with the Government of Commonwealth of Dominica as an Economist, with responsibility for Trade & Sustainable Development. He has also served as Development Economist, Development Coordinator, Financial Secretary and Permanent Secretary with the Government of Dominica.
Dr. Douglas graduated from the University of the West Indies (UWI) in October 2008 with a PhD in Economics. His thesis was entitled: "Sustaining Economic Development in a Small Island Developing State: the Case of Dominica." In 1998, he obtained a Master of Philosophy (M.Phil.) in Economic Planning from the University of Glasgow, UK and in 1977 obtained the degree of Master of Science (M.Sc.) in Agricultural Economics from the University of Connecticut, USA.
In 2004 and 2005, he served as a Member of the Energy Task Force, Government of Dominica, representing the Ministry of Finance. The Task Force received Technical Assistance from the World Bank and its work culminated in the Electricity Supply Act #10 of 2006. He was appointed as a Commissioner on June 1, 2011.