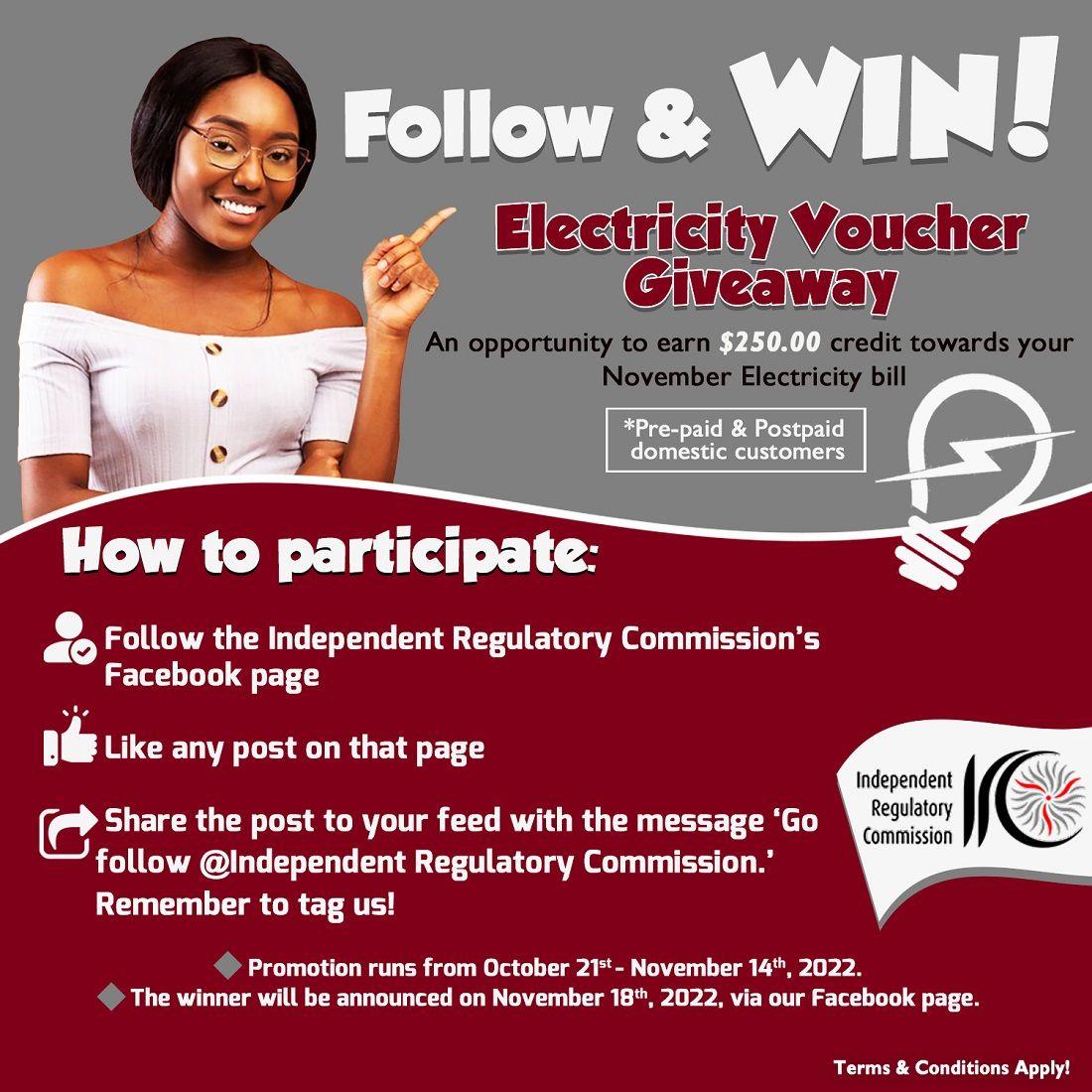 The Independent Regulatory Commission has launched an 'Electricity Voucher Giveaway' via its Facebook Page – Independent Regulatory Commission.
The social media promotion runs from October 21 to November 14, 2022. The IRC will award two DOMLEC customers in the domestic category with EC$250.00 credit each toward their November electricity bill.
Official Rules for IRC's Social Media Giveaway
Sponsor: The Independent Regulatory Commission is the sole sponsor of this Social Media Giveaway. This giveaway is not sponsored, endorsed, or administered by any other company and is not associated with Facebook.
Eligibility: To be eligible to enter this Social Media Giveaway, you must be an individual, not acting on behalf of or at the behest of any entity or business. Participants must be at least eighteen (18) years old and a legal resident of Dominica. Participants should also be Domestic customers of the Dominica Electricity Services Ltd. (DOMLEC). Employees, officers, and directors of the IRC (i.e., parents, children, spouses, grandparents, grandchildren, aunts, uncles, nieces, or nephews), are not eligible to win the stated prize. If the prize offered falls short of the amount on your electricity bill, the Sponsor will only cover the specified award amount. Individuals who participate in this Social Media Giveaway, but are not eligible for these reasons shall not be granted the prize, and they must, at Sponsor's discretion, return any prize mistakenly delivered to them.
How to Enter: To enter this Social Media Giveaway, you must have a Facebook account through which you enter the Social Media Giveaway. If your entry does not comply with the rules, you will not be eligible to win a prize. The steps are:
Follow the Independent Regulatory Commission's Facebook page
Like any post on that page
Share the post to your feed with the message 'Go follow Independent Regulatory Commission.' Remember to tag us!
Upon completing these steps, you will receive one entry into the Social Media Giveaway. Any attempts to obtain additional entries, including through multiple or duplicate social media accounts, fraud, or other illegitimate means, will result in disqualification for this giveaway.
By submitting an entry in the manner described above you agree that your entry conforms to the eligibility criteria and steps on how to participate.
Identity of Entrant: All Entries must be submitted by the individual entrant. Bulk or automated Entries will be disqualified – including Entries made using any script, macro, bot, or promotional service. A potential winner will be required to provide IRC with proof of address of the relevant DOMLEC account for the application of the credit.
Giveaway Period: The giveaway runs from October 21, 2022 and ends on November 14, 2022. All Entries must be received during the Giveaway Period and comply with all other requirements in these Rules to be eligible to win a prize. Any Entries received after the Giveaway Period will not be entered into the Social Media Giveaway.
Selection and Notification of Winners: Following the Giveaway Period, within the time specified in the Rules, the IRC will select potential winners of the prize by random selection from entries that fully comply with these rules. The winners will be announced on November 18, 2022, via the Facebook page.
Each potential winner will be notified via direct message on Facebook. The potential winners are subject to validation and verification of eligibility and compliance with these rules and may be required, at IRC's discretion, to provide additional information as a condition of being selected as a winner.
Winners Announcement: The name of the winners will be published, and their photos at their discretion on the IRC's Facebook Page.